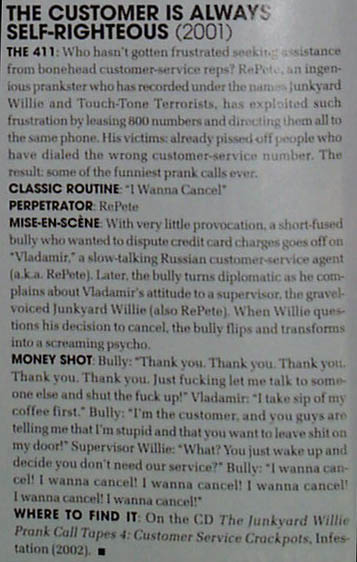 June 2002 - The 4th CD was honored (on page 80) in SPIN Magazine.
Spring 2002 - Release of "Customer Service Crackpots"
Fall 2000 - Release of "Customer Service Disasters"
March 2000 - Live in studio appearance on the Howard Stern show.
2/1/2000 - "A Permanent Lapse of Reason" gets as high as #5 on Amazon's list of Hot 100 CD's.
Fall 1999 - Release of "A Permanent Lapse of Reason"
Fall 1998 - Release of "Appetite for DisRuption"
ONGOING CALL SUBJECT SEARCHES
PHOENIX, AZ: Back in 1998 or so Junkyard Willie made a funny prank call to a woman who we've been unable to locate. She had a home phone number that used to belong to a Phoenix area company called "Denis Electric". The woman kept saying among other things "There's no Denis here". We are trying to contact her to see if she would like to be paid to allow the call to appear on the 5th album release. If you know anything about who this woman is please send an email. It was a funny call!
MORE CALLS RELEASED!
October 2017
Crazy Alice call to the Howard Stern show featuring Junkyard Willie [uncensored version].
March 2017
SELLING DRUGS: Insurance agent Stu Jaimison accuses a customer of selling drugs. What is the basis for his accusation? The customer is selling a house in one state while living in another.
HOOCHIE MOMMA: This call appeared on the DVD as a special features audio track. It's now on Customer Care Creeps. Woman gets upset with Jim Bob who just assumes that she didn't pay her bill because "some of YOU PEOPLE don't pay your bills". Think of Ross Perot's speech to NAACP audience and you'll understand why this woman took offense. Better call the Better Business Bureau.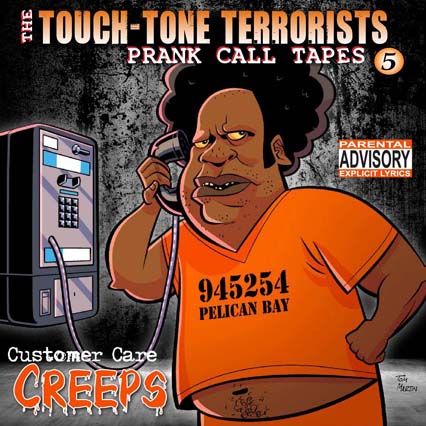 May 27, 2015 - The re-release of Customer Care Creeps features some "new" old calls. Some old call subjects have had a change of heart and signed releases!
BLOOD BANK: Stu Jaimison calling a blood bank to purchse real human blood for the heavy metal band that he manages called Spiders and Bed Bugz. They need it for stage show. Sounds like something out of Spinal Tap.
DEAD BODY: Blade calling a funeral home to purchase a coffin and emblaming fluid for a do-it-yourself burial. Blade had a party in his apartment and some dude died. Blade doesn't want the cops to get involved because he has a crytal meth lab in his apartment and he doesn't want to go back to prison.
BAIL BOND: Sweet Cheeks calls a bail bond business as the cops are harrassing him (her?) at the police station.
MONKEY BUSINESS: Vladimir and Willie drive a customer to call the real corporate headquarters. They in turn call to confront Vladimir. What happens next is unbelievable.
LOST IN TRANSIT: Stu causes a customer to never do business with ____ again after casually talking about how some hoodlums ran off with 600 to 1,000 packages that were left outside the building by the dumpsters over night because they ran out of space inside the building. Also some guy in the mailroom has been setting packages on fire.
MOVIES: Willie calls a casting agent about becoming a movie star, doing runway modeling, etc. He's 200 lbs over weight and has a belly "that won't quit" but he still believes that he's "the sexiest man alive". He's also not taking "no" for an answer!
Cartoon drawing of Willie by Tom Martin.
The Junkyard Willie Movie: LOST IN TRANSIT
DVD release date: Tuesday September 16, 2008 -- A lot of people have emailed to ask why the movie has taken so long to complete. After literally YEARS of painstaking work re-shooting poorly shot scenes, picking up shooting partially shot or completely un-shot scenes, replacing poorly recorded and / or distorted sound, digitally changing "UPX" into "JPX" (as seen throughout the movie) due to lack of a script clearance, masking out uncleared copyrighted paintings and other stuff seen on camera the movie is FINALLY done. After only about 20 days (of the agreed upon 30 days) of principal photography were shot, I was unfortunately forced to begin working (on average) 40 hour weeks for about 4 years assuming various roles, most of which I had never done before, including producer, line producer, director, location scout, casting director, set builder, offline editor, online editor, After Effects touch-up artist, post production supervisor, foley recordist, dialog replacement sound engineer, post sound mixer, stereo and surround sound mixer, music supervisor, music score writer / performer, Dolby compressionist, DVD author, DVD graphics designer, etc. Due to many issues I also had to file a lawsuit against the "producer / director". This "producer / director", who ultimately declared bankruptcy, and was actually also sued by a line producer regarding another movie. Anyway that's why it took 5 years to get done! Visit the official website.
Currently the movie is only sold on DVD here. Amazon jacked up their annual fee to an unacceptable level, so bye bye Amazon. Don't expect to find the DVD for sale there. Soon the movie will be up on Amazon On Demand as a rental.
Do you like to record phoney phone calls using soundboards? You are encouraged to use these original Willie and Stu sound bites and then post the call(s) on YouTube. Please give a little TTT credit for the sounds.
Many have asked what gear I used to record my calls. Here goes...

OVERVIEW: If you want to record phoney phone call albums then you want the highest quality sound. At the heart of great sound is 1) a "phone hybrid" and 2) talking through a microphone rather than a phone handset.
A phone hybrid essentially allows you to electronically tap into your phone line and give you a broadcast quality sound and it also allows you to connect a studio quality microphone through which you will talk to callers. There are several different brands and models of phone hybrids including products from JK Audio and Comrex, but my favorite tried and tested model is the Gentner SPH-3A phone hybrid ($150 - $200 used) which I used to record my first 4 albums. I also used a Gentner SPH-10 for my Customer Care Creeps album. I like the SPH-3A better than the SPH-10 because the on / off switch (shown at right) is 100% dependable. Sometimes the "call" / "drop" buttons on the SPH-10 don't respond to being pushed.
The SPH-3A and the SPH-10 are both older "analog" hybrids. I honestly can't tell the difference between analog and digital.
The Gentner models, including my favorite SPH-3A model are no longer manufactured but you can find one on Ebay with a little patience. The SPH-3A is actually at least 15 years old and Gentner got bought out by Comrex Corporation a few years back.
I have tried using some digital hybrid models for incoming calls but they all had one major problem: Digital hybrids pick up inbound calls as soon as they are powered on! When the phone rings, you turn on your equipment, then your equipment has to warm up and you put your headphones on. This takes precious time -- usually at least 5 seconds! I discovered that by this time the caller has often already hung up because the line picked up and they heard silence for 5 seconds or more. As soon as you answer the call you need to be able to say "Hello, can I help you?" immediately. I suppose you could just leave your equipment turned on 24 / 7 but I don't like to cook my equipment. The simple solution is to just get an analog hybrid like one of the two forementioned models.

For voice altering pitch shift: Yamaha SPX-90 or Yamaha SPX 90 II ($100 used) - I use the "pitch shift C" preset to detune my voice to do my Willie, Stu, Blade, and Clarence characters. I tuned up to do my Tic Tac and Arianna Huffington voices. Don't get too carried away with the pitch parameter. No more than plus or minus 2 or 3. Anything more and you will start to sound like Darth Vadar. You could also use a Yamaha SPX-900, SPX-1000 or SPX-2000 but this would be overkill. All you need is pitch shift -- not all of the bells and whistle effects that these more expensive units have. By the way, without naming names, I have tested other rack mounted digital effects brands of products but the pitch shift on these other products was inferior to Yamaha's pitch shift. Trust me... the other products sound "processed". Yamaha sounds the most natural. I am told that this is because the computer chips inside Yamaha products just plain have more processing power.

Tascam 302 cassette deck ($50 used?) - You will need a reliable recording device. Tascam makes the highest quality cassette decks. I personally prefer analog tape recording over digital computer recording. If you plan on taking inbound calls and you don't want to leave your equipment turned on 24 / 7 then the Tascam 302 is a no-brainer. It warms up and is ready to go in about 3 seconds. I once tested a cheap consumer cassette model that took about 7 seconds to warm up. Digital recorders may take even longer to warm up. You don't want to cut corners with a cheap cassette deck that might fail in the middle of a great call.
You will record on two channels (panned hard left and hard right) so that the volume levels of your voice (alone from the microphone) and the caller's voice can later be balanced / mixed in post production. Set your record levels so that they peak out at about 0 db to + 6 db. This contrasts with digital recording which should never cross zero db. If you record at levels that are too low you will start to introduce "tape hiss" noise. Record too loud and you'll get distortion.

DBX 166 Compressor ($75 used) - Having a 2 channel compressor is a must to stop peak level distortion on both your voice and the caller's voice. You only get one chance to record a call properly without distortion, and if you will be recording onto cassette tape then more than ever you need to push levels into the 0 db to +6 db range, unlike digital recording which should never reach 0 db. NOTE: Turn "stereo couple" off. You want to run your voice through one dedicated channel and their voice through the other channel. The DBX 166 is an old vintage compressor but it sounds great. I think it sounds better than the newer DBX models.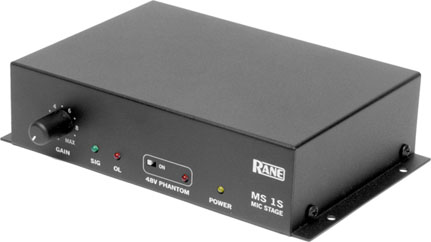 Rane MS 1b ($60 used) - You must use a preamp in order to run the microphone signal into the Gentner phone hybrid, unless you want to pay a tech to have the Gentner modified to accept a "line level" input. It's cheaper to just buy a preamp like the Rane MS 1b. I like the MS 1b because it is simple, quiet, good quality and relatively inexpensive.
As I mentioned earlier, recording though a microphone will sound way better than talking through a phone handset. Audio Technica 3035 condenser mic ($200) or a Shure SM-58 ($100) - I used a Shure SM-58 to record my first 4 prank call albums. I used the AT 3035 to record my 5th album. I still prefer the SM-58. Condensers (like the ATM 3035) are brighter sounding than cardioids (SM-58). Whatever you do, I say don't waste your money on an expensive $1,000 mic. I once tested my ATM 3035 versus a Neumann TLM-103 in the studio with a friend and we could not tell the difference!
Cables, mic stand, pop screen (about $100)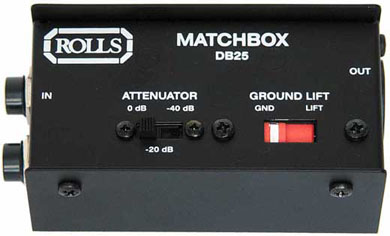 Rolls DB25 ($30) to convert 1/4" cable to XLR (mic cable)
Uninterrupted Power Supply - Optional. Consider buying one of these if you want to protect against a power outage ruining a great call in progress!
Beringer UB502 mixer ($30) - optional if you want to play sound effects
Roland SP 404 sampler ($400) - optional if you want to play sound effects
How to connect it all?
**Roland SP-404 > Mixer Ch2 > (note: you are inserting into the mixer after the Yamaha because you don't want to alter the pitch of your sound effects)
Microphone > Rane MS-1S > DBX 166 Ch1 > Yamaha SPX 90 Ch1 > Mixer Ch1 > Rolls Matchbox > Gentner SPH-3A Send (just your voice + sound effects)
Mixer split out > Tascam Ch1 In (just your voice + sound effects)
Gentner SPH-3A Caller Out > Compressor Ch2 > Tascam Ch2 In (mostly the caller's voice)
So if you want to shell out a bare minimum of about $700 plus shipping you can get started recording broadcast quality calls (legally of course - check your State & Federal laws). It ain't cheap. If you don't want to shell out the $$ then try one of those cheap Radio Shack recorders. I recorded "Rude Bird Brain" and "Calm Your Ass Down" on a $50.00 Radio Shack recorder. Good luck!
Touch Tone Terrorist 5
The long awaited 5th TTT called Customer Care Creeps was finally released in November of 2009. There's only 7 new calls. It ain't much but it's something. It's only available as a digital download via iTunes and Amazon.
By the way once in a while we get a hook, line & sinker email, reading something to the effect of....
"I'm a big TTT fan but this latest CD is obviously STAGED! I recognize RePete's voice doing all of the "caller" voices. Why would you even bother releasing such garbage?"
When people send these emails it's code for "I'm an illegal downloader and I'm complaining about the junk I downloaded for free".
CLICK HERE to read the comical reviews and emails by illegal downloaders
CLICK HERE to hear the real audio samples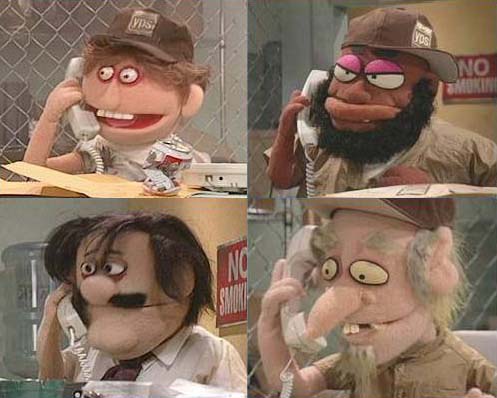 In December 2001 I traveled to Vegas to record some prank calls for a Comedy Central TV show called Crank Yankers, which is being produced by the Man Show people (Jimmy Kimmel, Adam Carolla and company). There were two TTT calls featured on season #1: "We Get to Drink" off "Permanent Lapse of Reason" and "Should Have Sent it Sooner" off "Customer Service Disasters".
"Birthday Present" is scheduled to air on MTV2's Crank Yankers in 2007.
Life imitates TTT: A guy named Jeff has emailed this image of an actual "Scooter's L@wnmower" store. Now hopefully someone will email some images of (what was revealed on KQRC to be) the brake shop in Kansas City (AKA "City Brake" off Appetite for DisRuption).
CLICK HERE to see the actual casting notice that was once placed in order to bring in phone calls from actors for Jim Bob's phoney movie "Escape From Hollywood". Listen to "Jim Bob's Casting Call" off "Permanent Lapse of Reason". That call came in as a result of this ad. Also the "Rude Lube" call originated as a misdialed number during the time that all of the actors were responding to the ad. This is why you hear "Stu" saying "Katzenberg Entertainment, this is Stu" at the start of the call.
And someone on Facebook spotted Willie wheeling Dee Dee around behind his lawnmower.
What have I been up to lately? Writing some really obscure Progressive PsyTech music under the name "Alien Disco Roadkill". Click here for details. I also have 3 songs up on Amazon.